About the Artist
Ian Hubbard is a newer and quite prolific visionary creative whose art is slowly bursting through the cracks of Southern California. His unique style encapsulates his perception of the synchronicity between mechanical and organic forms, otherwise known as biomech. The rhythmic flow in his paintings inspire "visions from outside the tesseract", incorporating themes such as the Divine Feminine, nature vs. machine, and the vision quest, reflecting much of what we experience in our reality. A humble yet known artist in the West Coast festival scene, you can catch him spinning fire and paint fractals yearly at events including but not limited to Desert Hearts, The Untz, Serenity Gathering, Sonic Bloom, and Symbiosis Gathering.
My story
I grew up in a small apartment with my mother and sister in the San Fernando Valley. From the ages of 4-13, my interests were limited to watching tv, swimming, skateboarding and drawing. It wasn't until I was in high school, that I had begun to experiment with paint. I had an art class with the most incredible teacher who supplied us with the essentials to create whatever type of art we felt inspired to produce. There wasn't much of a curriculum so we had free reign. Later on, in my junior year, a few of my friends and I attended LUCIDITY Festival in Santa Barbara, CA. This is where everything changed for me. This festival transformed me in so many ways and showed me a completely different avenue for me to apply my talent. I was introduced to new types of music, an accepting community and LIVE PAINTING. I knew at that point, that this was the path that I want to venture down. And so I did...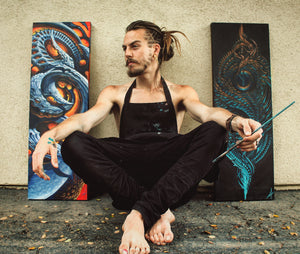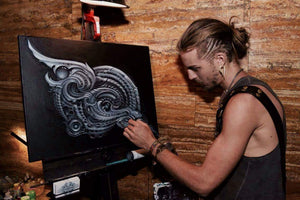 I started researching and applying to live paint at other festivals similar to LUCIDITY. In 2015 I finally got accepted to showcase my work at FIREFLY Gathering in Flagstaff, AZ. I didn't have much of a portfolio and absolutely no experience painting for an audience so I was a bit nervous. The nervousness subsided when I got to the main stage to set up my easel. This opportunity to paint alongside 30 other artists truly opened my heart to a world of love. During the event, the bass would bump and the sea of dancing hippies would start to trickle though the row of live painters. People came up to me to ask me all sorts of questions about art, my process, prices, and I would answer to the best of my knowledge even though I hadn't had much experience. After the gathering was over, I was contacted by one of the attendees who I'd had a brief interaction with during the event. He offered a large amount of money for the piece I had painted that weekend and ended up purchasing it. 
Since then, I have attended well over 30 festivals where I've had opportunities to showcase work in galleries and/or live paint for thousands of people. This path that I chose back in 2012, has introduced me to so many beautiful people and is constantly inspiring me to push forward with my career. My painting styles have evolved plenty of times, allowing me to learn different techniques and methods of projecting my visions. If you follow the link below you'll be taken to my online portfolio of paintings that I have produced throughout the years.